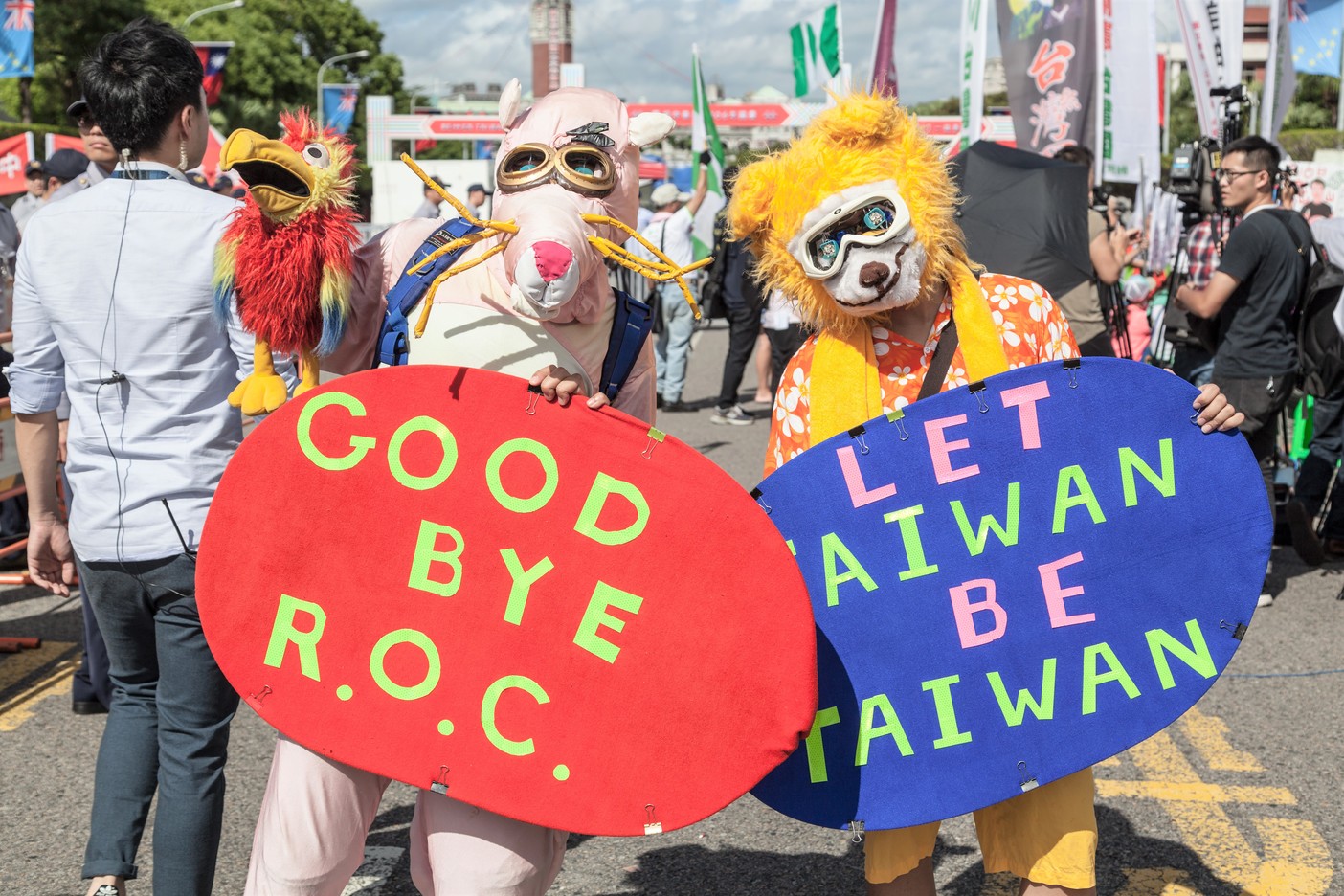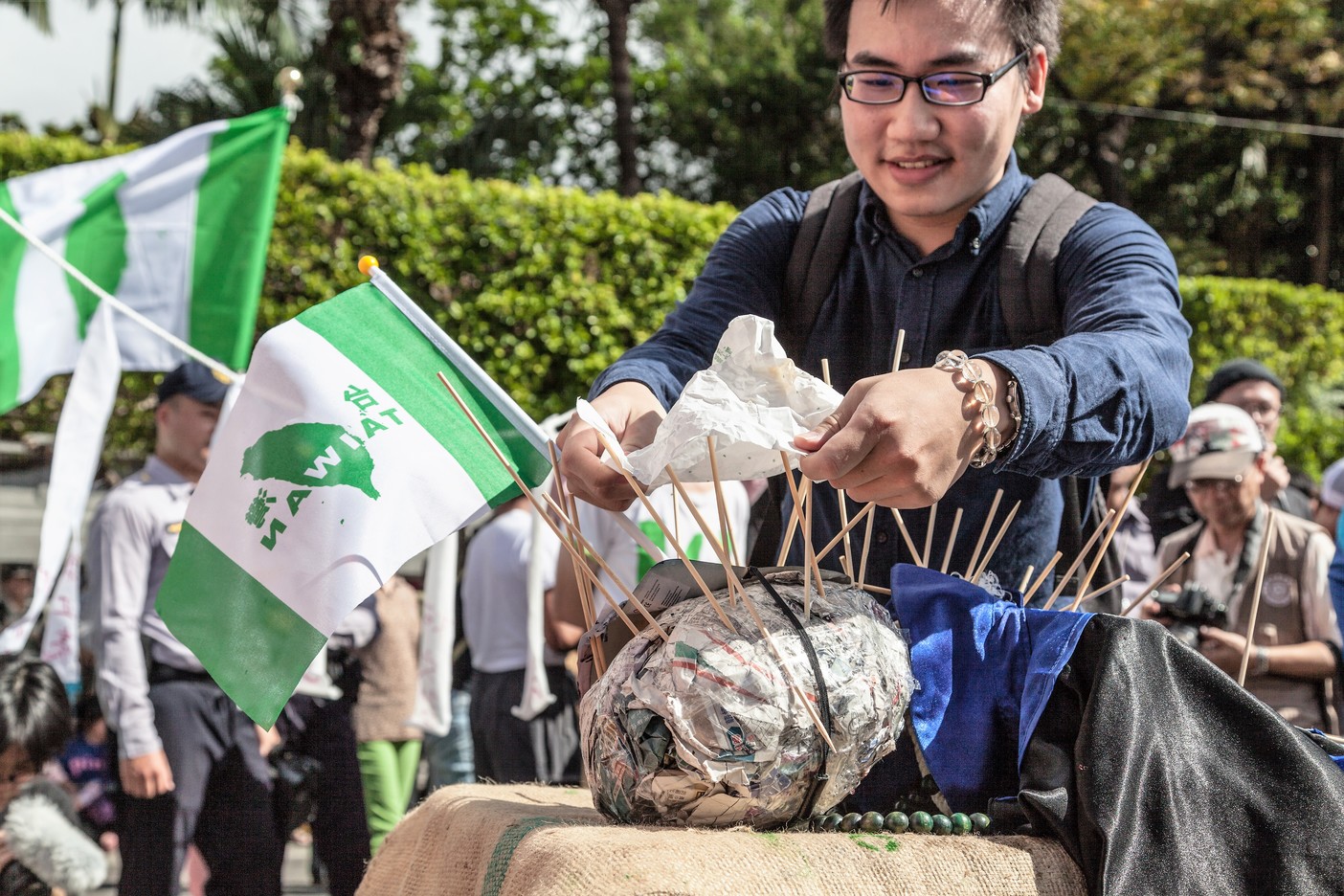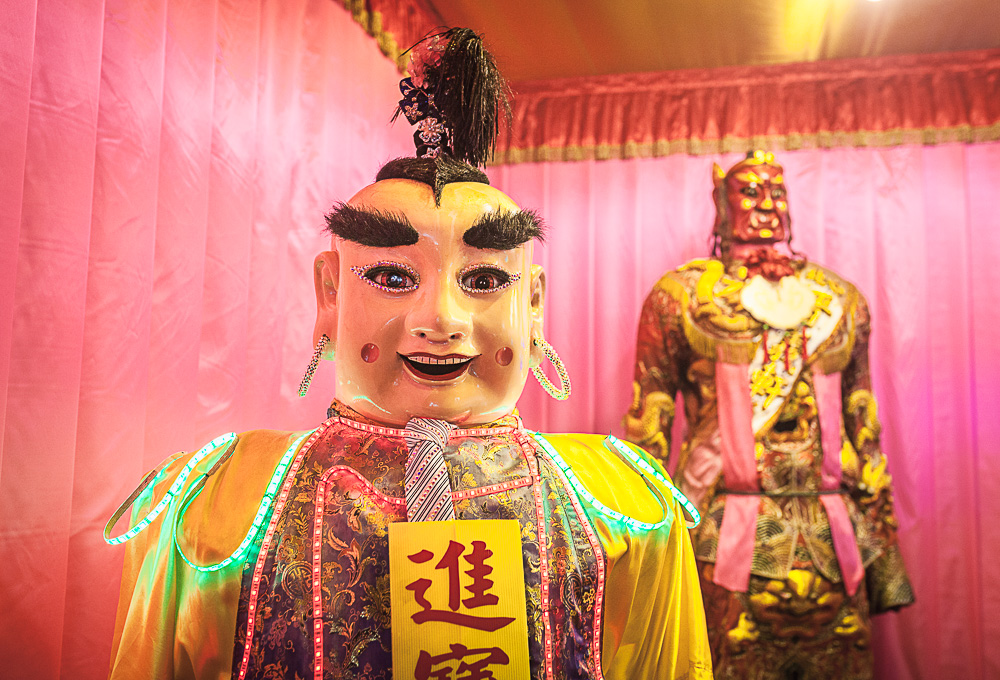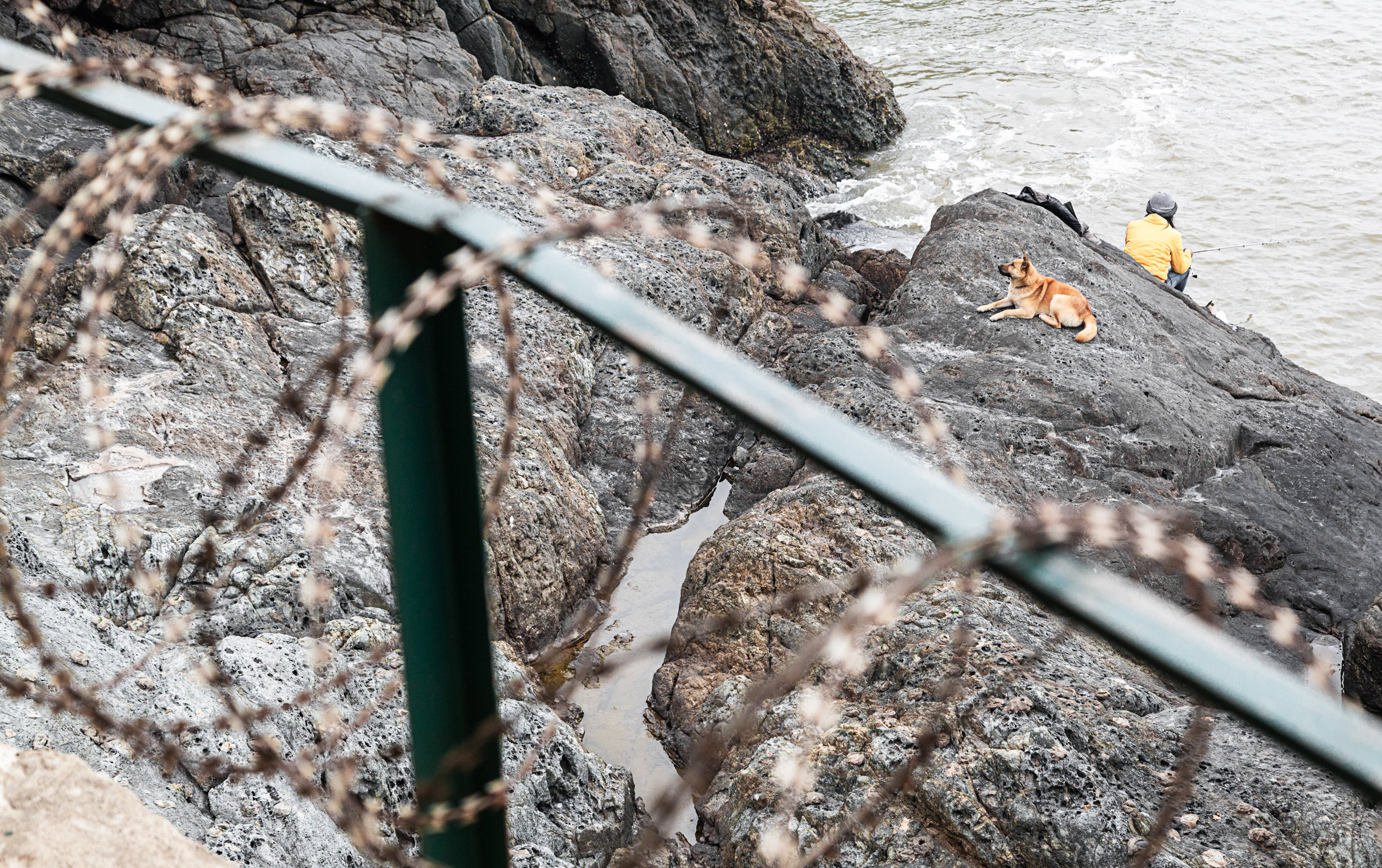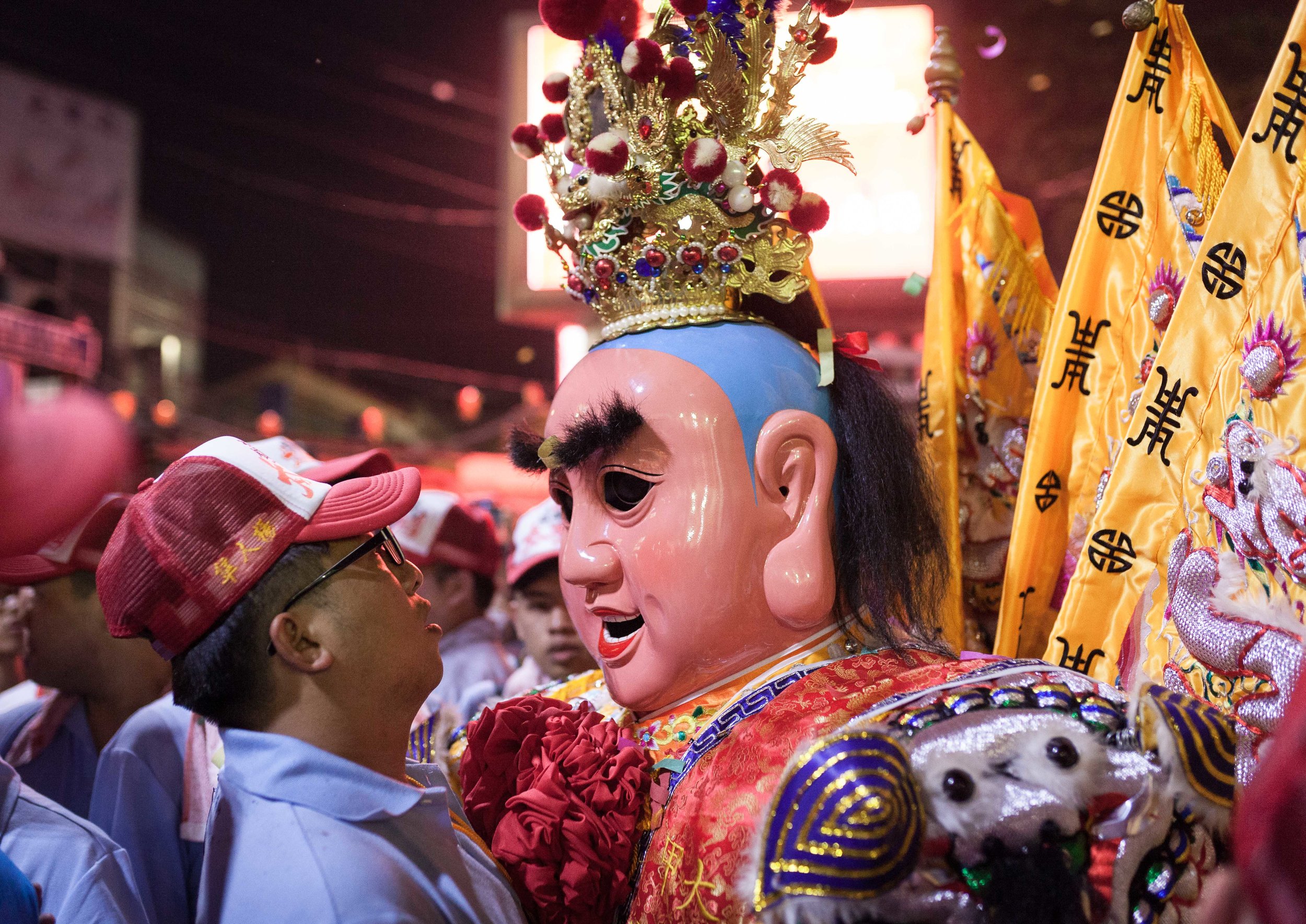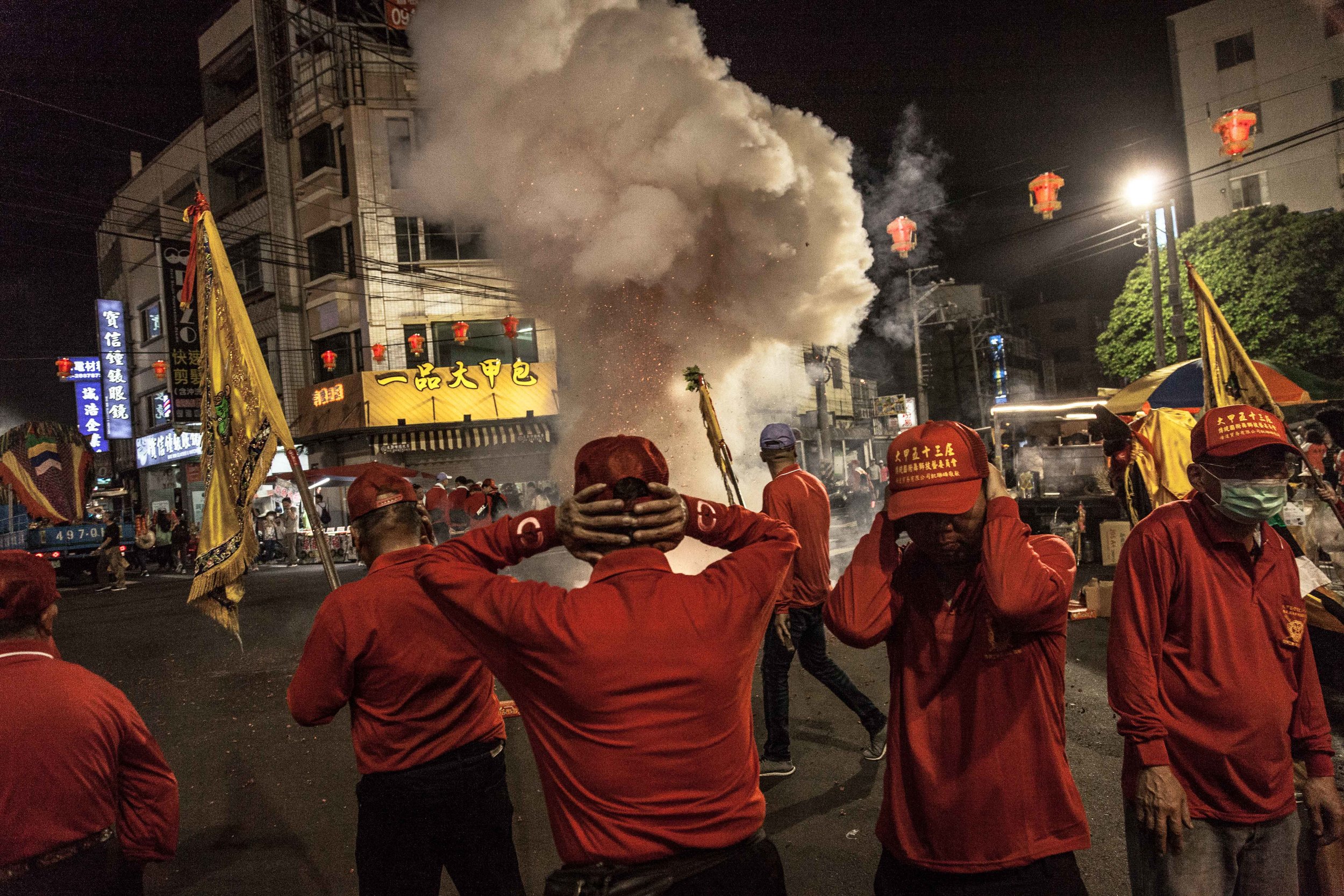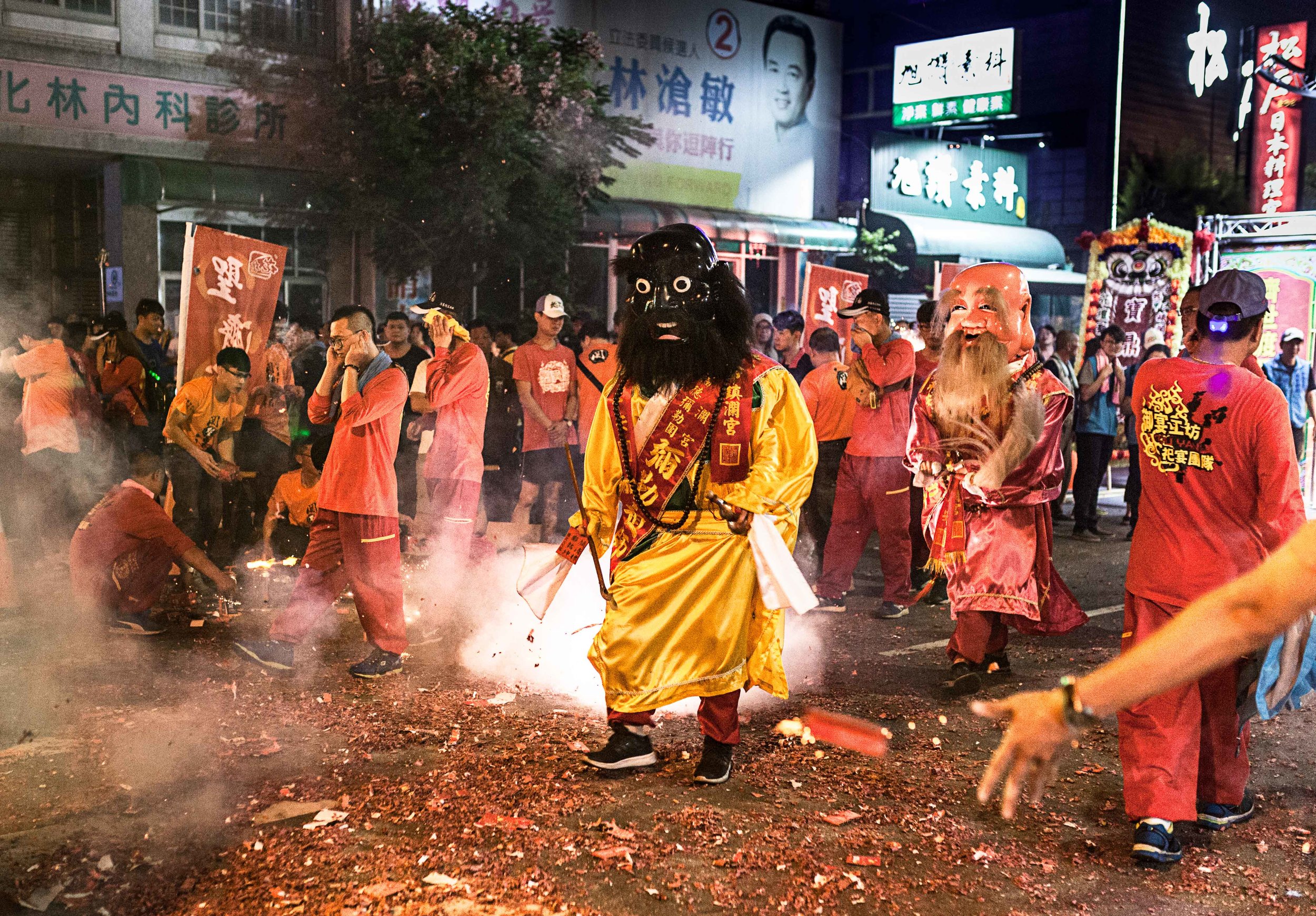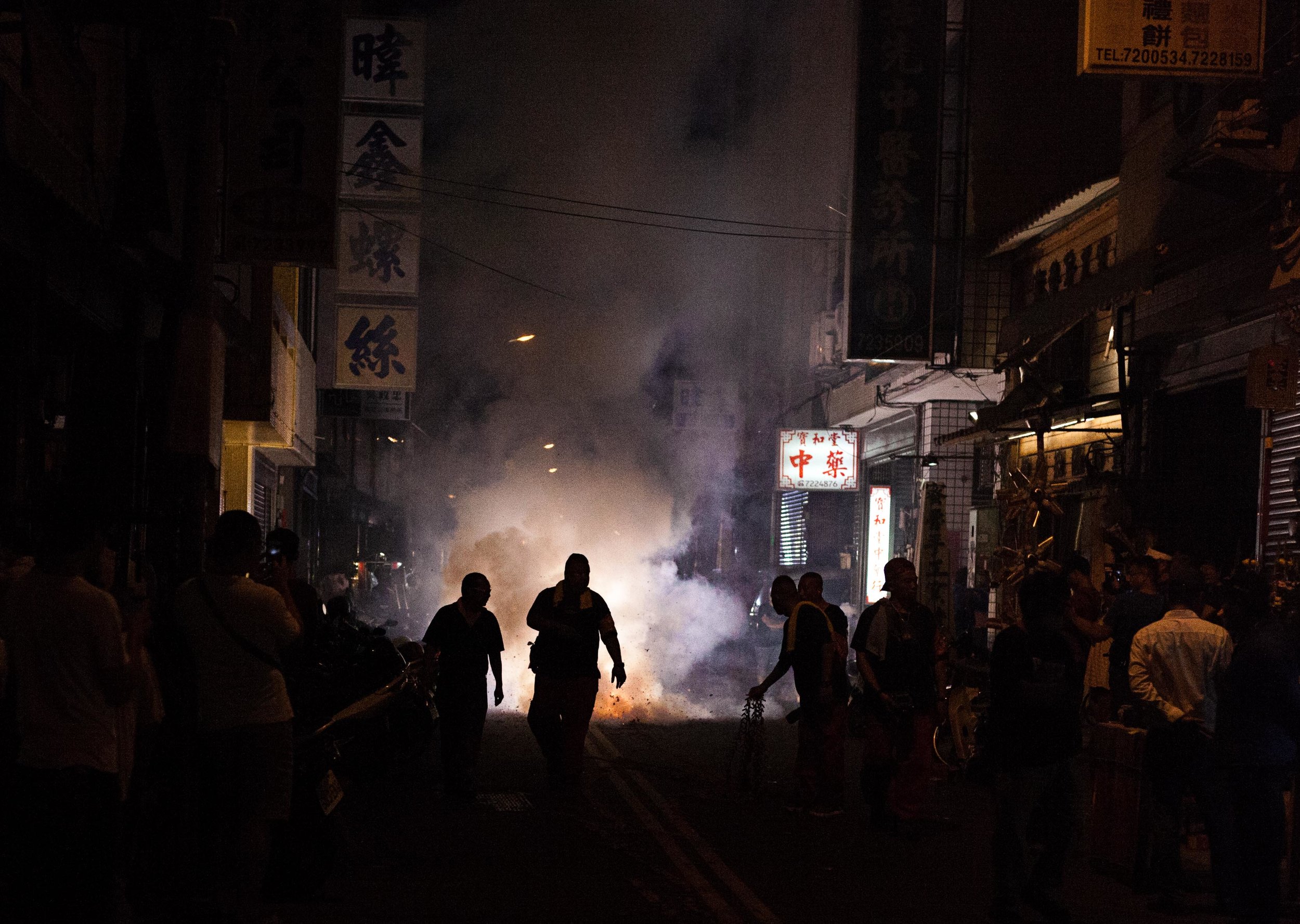 Republic of China flags flying in front of the spectacularly named Gate of Great Centrality and Perfect Uprightness – Taipei
Flag dancers practice their routine in Taipei's Liberty Square
Flag dancer frozen mid-routine against a backdrop of the Taiwan National Concert Hall
Detail from the Land God Temple at Badouzi harbor in Northeast Taiwan
Fuyou Temple in Tamsui, a riverside town in New Taipei.
A singer with no eyes performs upbeat Chinese classics to passersby in Tamsui
A photographer catches one of Tamsui's famous sunsets
The Taiwanese love cats, which is seemingly an understatement. The old Japanese mining village of Houtong is now known as "Cat Village," and this is one of its two hundred residents.
The villagers' efforts to care for stray cats fast became an online sensation.
Mustering energy is sometimes difficult during a Taiwanese summer.
I reached Jiufen, the old gold mining town that inspired Hayao Miyazaki's Spirited Away, and the skies began to rumble with distant thunder.
Giant dragon lantern in honor of the Mid-Summer Ghost Festival in Keelung City
Performers in the Ghost Festival parade on September 4th, 2017.
Gypsy dancers mesmerize the crowd as they pirouette through Keelung on September 4th.
I shot the September 4th parade from the press section. I did not get a chance to organize a press pass beforehand but gently talked my way in. The Taiwanese are extremely kind to foreigners.
I couldn't get enough of these performers dressed as Chinese gods. They kept running right at me and veering away at the last second.
Various clubs and organizations marched by the crowd, dignitaries, and photographers
Women of all ages performed synchronized dance routines
2017 was the Year of the Rooster, symbolized by this parade float
A fleeting moment frozen in time as two women walked by wearing qipao, the traditional figure-hugging Chinese dress
From my privileged spot on the action side of the crowd barrier, I was free to interact with the marchers who were happy to smile and wave back at me
This diablo display team attracted an excited fan who ran along side them screaming. I remember the days when I was that passionate about diablos too.
Women of all ages danced in teams for the crowd. Being at this event was a privilege, and also, it made me realize how much of a cultural powerhouse Taiwan is for its tiny size.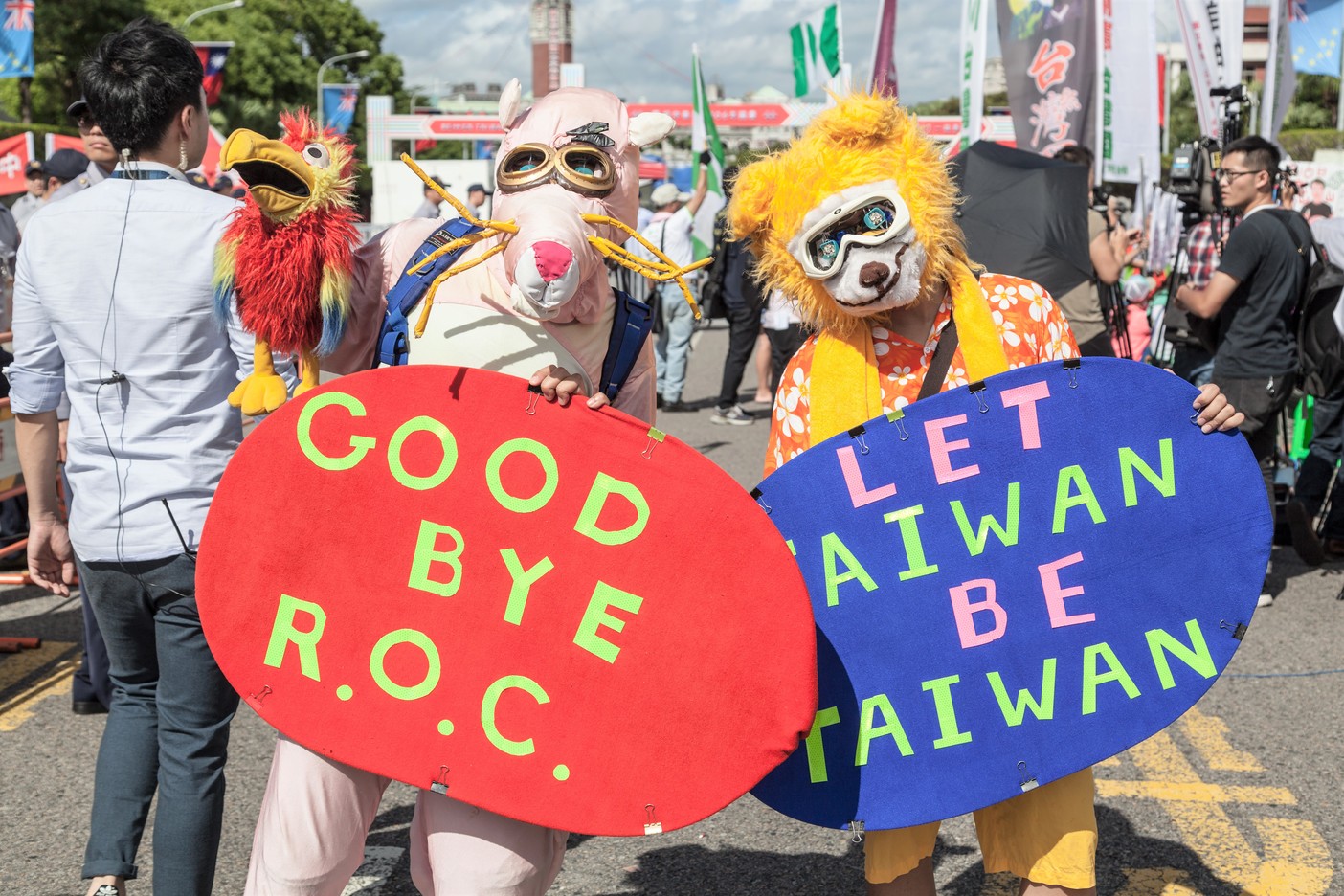 11/11, National Day of the Republic of China: I walked toward the presidential palace to see the parade; instead, I was drawn to a raucous anti-government protest. I was about to have my eyes opened.
In a display of controlled rage, people spat on an inverted Republic of China flag. The R.O.C. ruled China from 1912 to 1949. In 1945, Japan handed Taiwan to the R.O.C. after a 50-year colonial rule.
However, the Taiwanese viewed the R.O.C. as yet more colonizers. A saying at the time was, "The dogs have left, but the pigs have arrived." Photo: Effigy of the R.O.C. with chopsticks to the head.
In 1949, the R.O.C. lost the civil war to Mao's communists. The R.O.C government, elites, military, academics, monks, and civilians (2 million total) retreated to Taiwan with all of China's gold.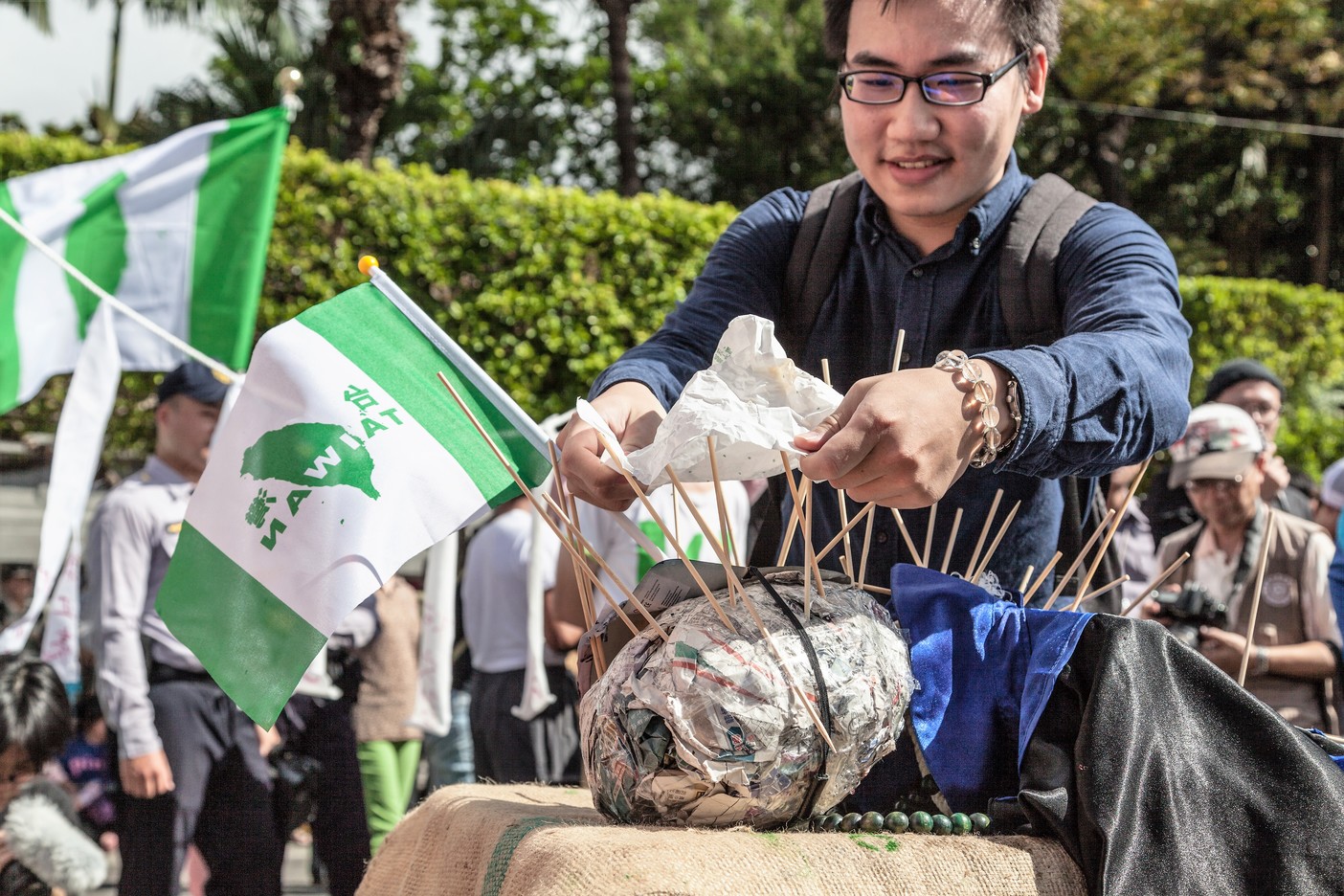 Chiang Kai Shek, leader of the R.O.C. at that time, assumed control of Taiwan and swore to retake the mainland one day. He ruled Taiwan brutally with an iron first until his death in 1975.
The only political party in the R.O.C., called the Kuomintang (the Chinese Nationalists) were extremely corrupt and murdered potentially hundreds of thousands of Taiwanese.
Hence, on 11/11, Taiwanese gathered to protest the R.O.C., which still governs the island of Taiwan to this day (albeit now a multi-party state), and declare it an illegal colonial government.
They spat on the flag and stabbed sharpened chopsticks through the head of an effigy representing the R.O.C., and dragged its mangled corpse through the street toward Chiang Kai Shek Memorial Hall.
Little did I know as I marched with them, but they planned to burn the corpse of the R.O.C. in a highly symbolic location; in front of the building representing the very man they unanimously despised.
They'd had to inform the police in advance of their plans. As soon as the body went up in flames, officers rushed in with buckets of water to extinguish them. Enraged, the crowd surged forward.
Deafening shouts went up as the flames were extinguished. In the crowd's eyes, these police officers had sworn an oath to the R.O.C., and thus, they were instruments of the state they were protesting.
I took these images in quick succession in the space of a few seconds. The woman on the right was particularly passionate and police restrained her. Seconds later, the crowd swarmed the officers.
Protesters and news reporters swelled forward so fast that I had no chance to protect my body. My arms and camera were raised up as my ribs were crushed by other people's limbs and camera equipment.
At that moment of panic – and admittedly, sheer exhileration – six military helicopters flew overhead in formation.
When the mayhem had subsided, the decision was made to relocate to a quieter side street. Here, Professor Ting-Kuei Tsay, leader of the Free Taiwan Party, burned the flag of the Republic of China.
Professor Tsay's Free Taiwan Party advocates the abolition of the state of the Republic of China, and the building of a brand new nation from the ground up – A truly free Republic of Taiwan.
I pondered Tsay's goals as I wandered past the brilliant neon of Liaoning Street. Taiwan is already independent in almost every respect; however, China (P.R.C.) will invade if this is ever declared.
I first visited Taroko Gorge National Park on vacation in 2009; eight years later, I returned to retrace my steps. In the space of 20km from the east coast, spectacular peaks rise to over 3,000m.
Eternal Spring Shrine clings precariously to a sheer mountainside not far from the West entrance to Taroko Gorge National Park
This man's dejected body language caught my attention. Seeing such sadness in beautiful surroundings, I couldn't help but wonder what was going through his head.
In Taipei, I found a secluded spot to view the Grand Hotel. Chiang Kai Shek ordered its construction; opening in 1952 and finished in 1973, each of the 8 guest levels represents a Chinese dynasty.
The Lin An Tai Ancestral House in Taipei, a successful merchant's home from the late 1700s, was rebuilt on a new site to avoid being lost to demolition.
At Baoan temple in Datong District, Taipei. Seconds later, the man threw red moon blocks onto the floor to communicate with the gods.
Outside Baoan Temple that same day, a romantic engagement photo shoot was taking place.
Bubble tea was invented in Taiwan in the 1980s. It is truly ubiquitous. In this image, a local Taiwanese girl explains an extensive bubble tea shop menu to thirsty tourists.
Taiwan's west and east coasts are polar opposites, separated by 3,000m+ peaks. The west is industrial and densely populated, whereas the east is lush with few people. This was in Taitung County.
I cycled through the rural township of Chihshang under dramatic January skies to blow away the cobwebs and focus on the year ahead.
A buddhist monk leaves Fo Guang Shan Monastery, located into the countryside from Kaohsiung City.
Four hundred and seventy Buddhas split by a sunbeam inside Great Compassion Shrine, Fo Guang Shan Monastery
The 108m high seated Buddha at Fo Guang Shan Monastery was so striking that I momentarily felt energised and forgot I'd only slept for 30 minutes on a night bus. Next time, I'll take the bullet train.
Down by Kaohsiung harbour, men sat to watch passing ships.
A scene from the Mazu Temple near Cijin old street, Kaohsiung City
Republic of China soldiers standing guard at the National Revolutionary Martyrs' Shrine in North Taipei, a building commemorating the Republic's war dead.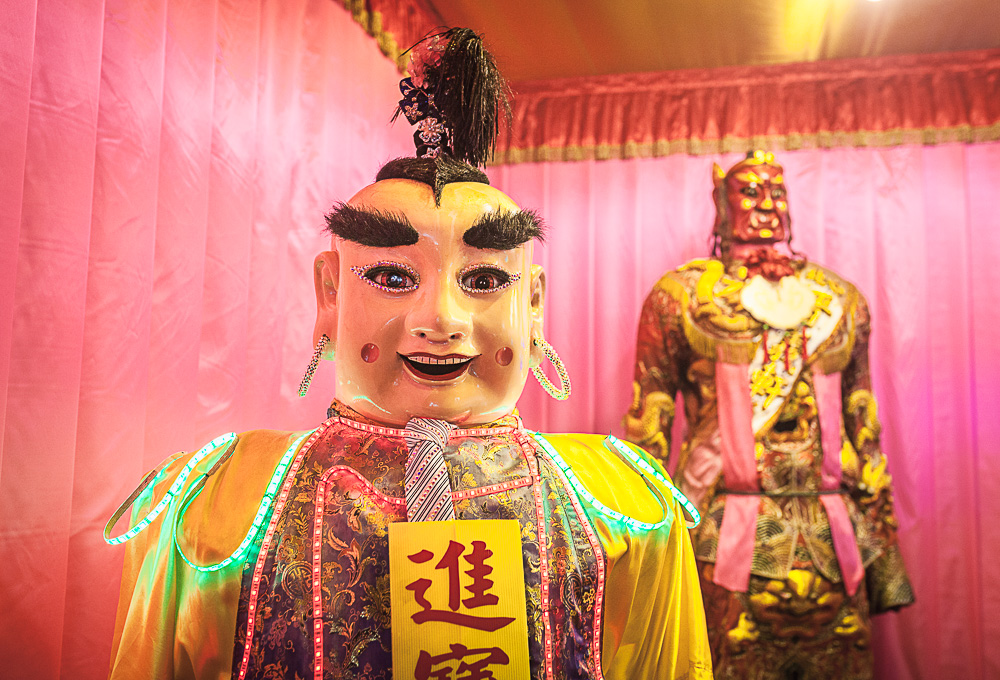 Chinese New Year preparations: A pair of decorated Chinese gods under a tent in Dadaocheng Park — Dihua Street, Old Taipei
I watched as these women lit three sticks of incense and bowed, before plunging them into the burning pit under the watchful eyes of the man with the gray ponytail — Xiahai Chenghuang Temple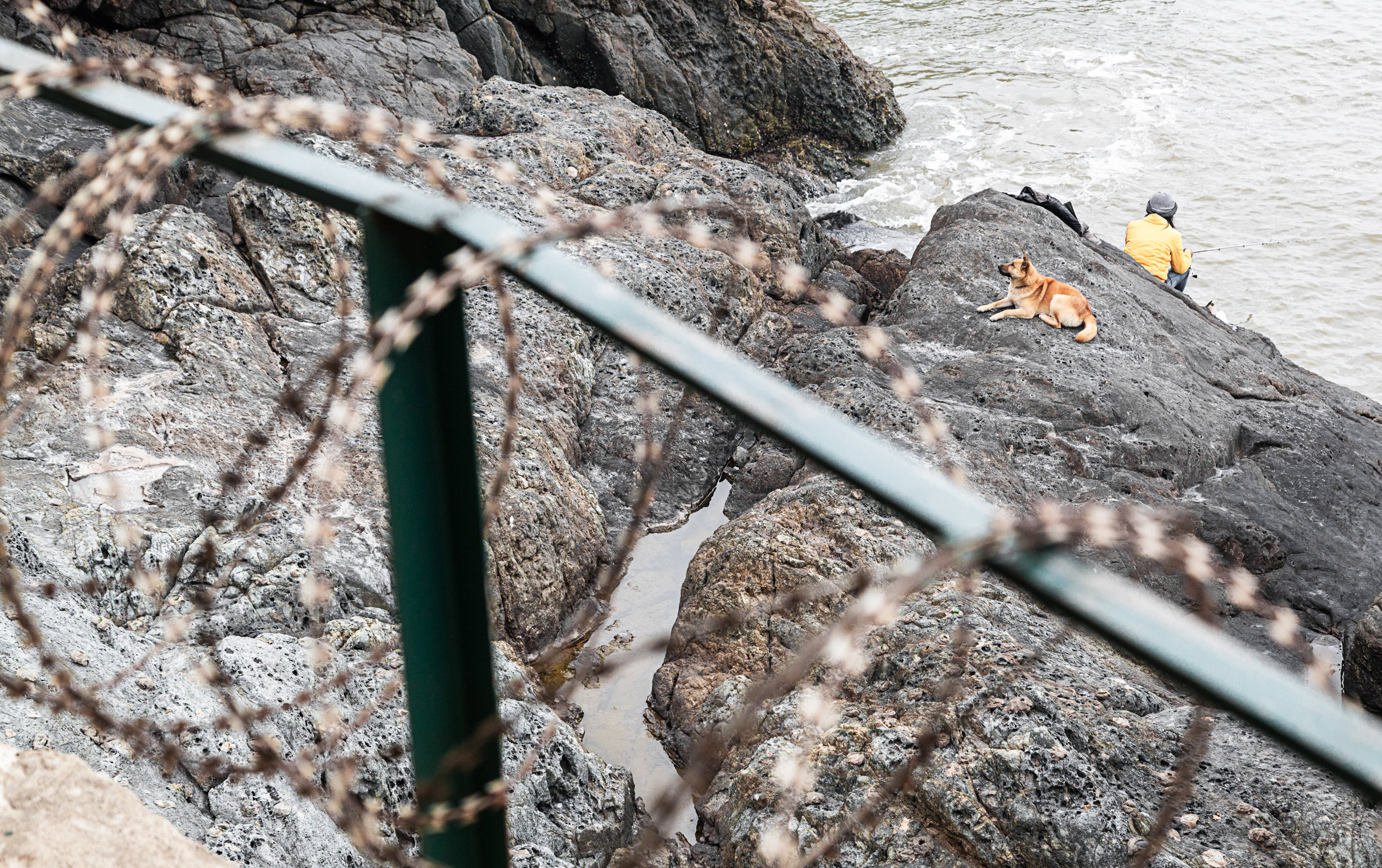 Residents of Nangan island in the Matsu archipelago. The razor wire harks back to when People's Liberation Army "frogmen" would swim ashore to hunt nationalists after dark.
A giant statue of the Goddess Mazu, the most important goddess in all of Taiwan's islands, stands guard on a hill overlooking Nangan in the Matsu Islands. Up there, you can see across to China.
In Matsu, folk religion meets military frontier. Giant granite plaques face Mainland China carved with "Fight against the communists, resist the Russians, kill Ju De, and remove Mao Zedong!"
Red lanterns lined the path down to Jinsha, a well-presered Fujian-style brick fishing village on Nangan, Matsu Islands
Lantern Festival celebrations in the fishing village of Waian on Penghu Island
A middle-aged dancer's moment in the spotlight at Waian's Lantern Festival celebrations
A man in a trance-like state to allow the god of Jinghai Temple to communicate through him — Penghu Island
Once a year, he comes to the temple in Wukan Village to enter his trancelike state. A kind onlooker leant in and whispered in my ear, "The god of the temple is inside him now."
Sometimes he seemed to dance in a choreographed manner, while at other times his movements were erratic and unhuman.
After sprinting down temple steps toward a warehouse housing a ceremonial ship, with eyes closed, the man possessed by the god of Jinghai Temple began waving a pair of swords wildly above his head.
Outside the warehouse, he paused to deliver whispered messages into the ear of the designated interpreter, all the while his eyes rolled back in his skull.
Back inside, he thrashed his head back and forth in front of the altar. It looked painful, just like headbanging.
At this point, his energy seemed to dwindle, and so thinking it was coming to an end, I started packing up my gear and moved toward the exit.
But no, when I reached the bottom of the steps, he picked up the pace again, and my local friend told me the scene would continue for hours.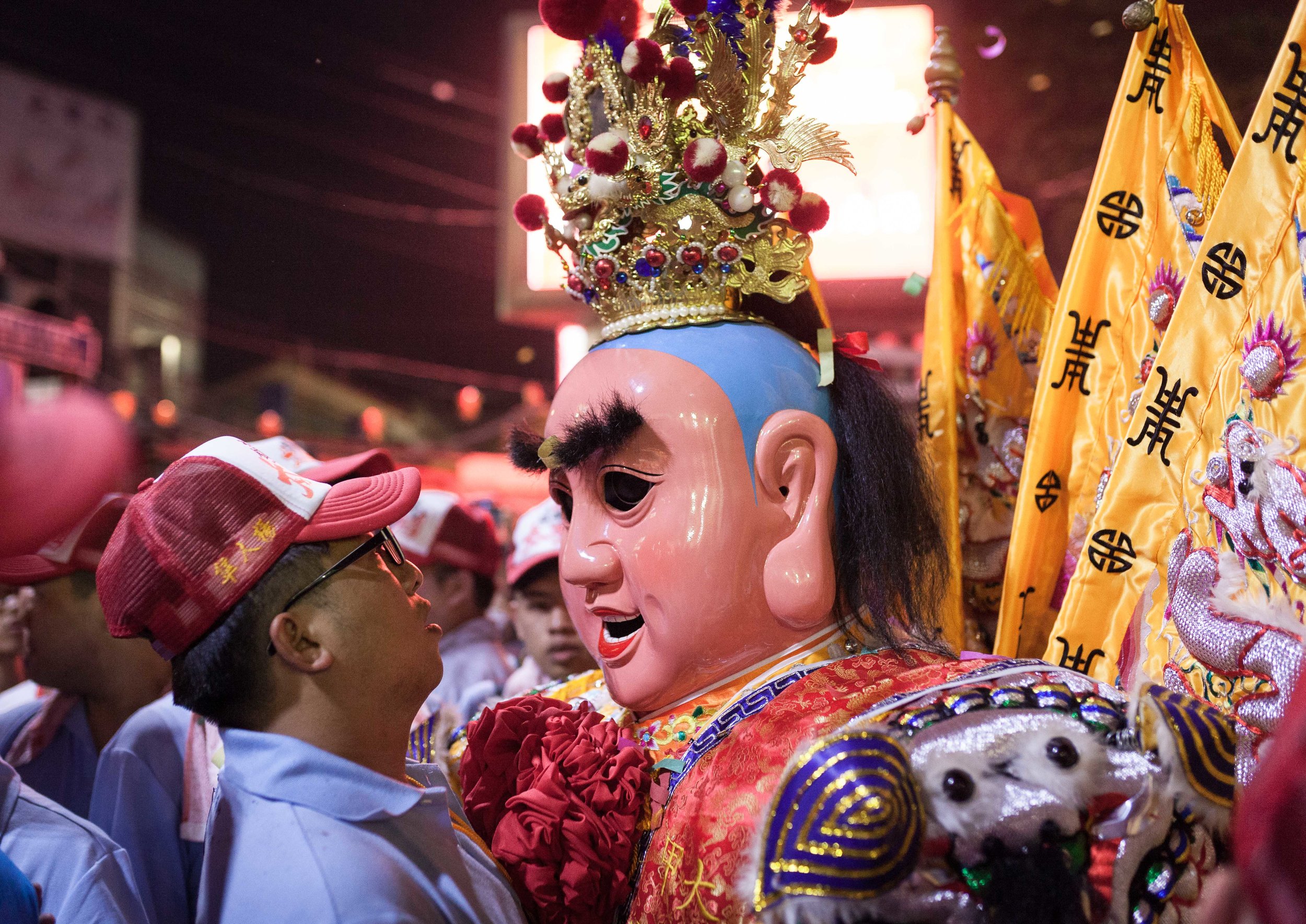 A man comes face to face with a Taiwanese god at the opening ceremony of the Dajia Mazu, the world's third largest religious pilgrimage -- Jenn Lann Temple, Taichung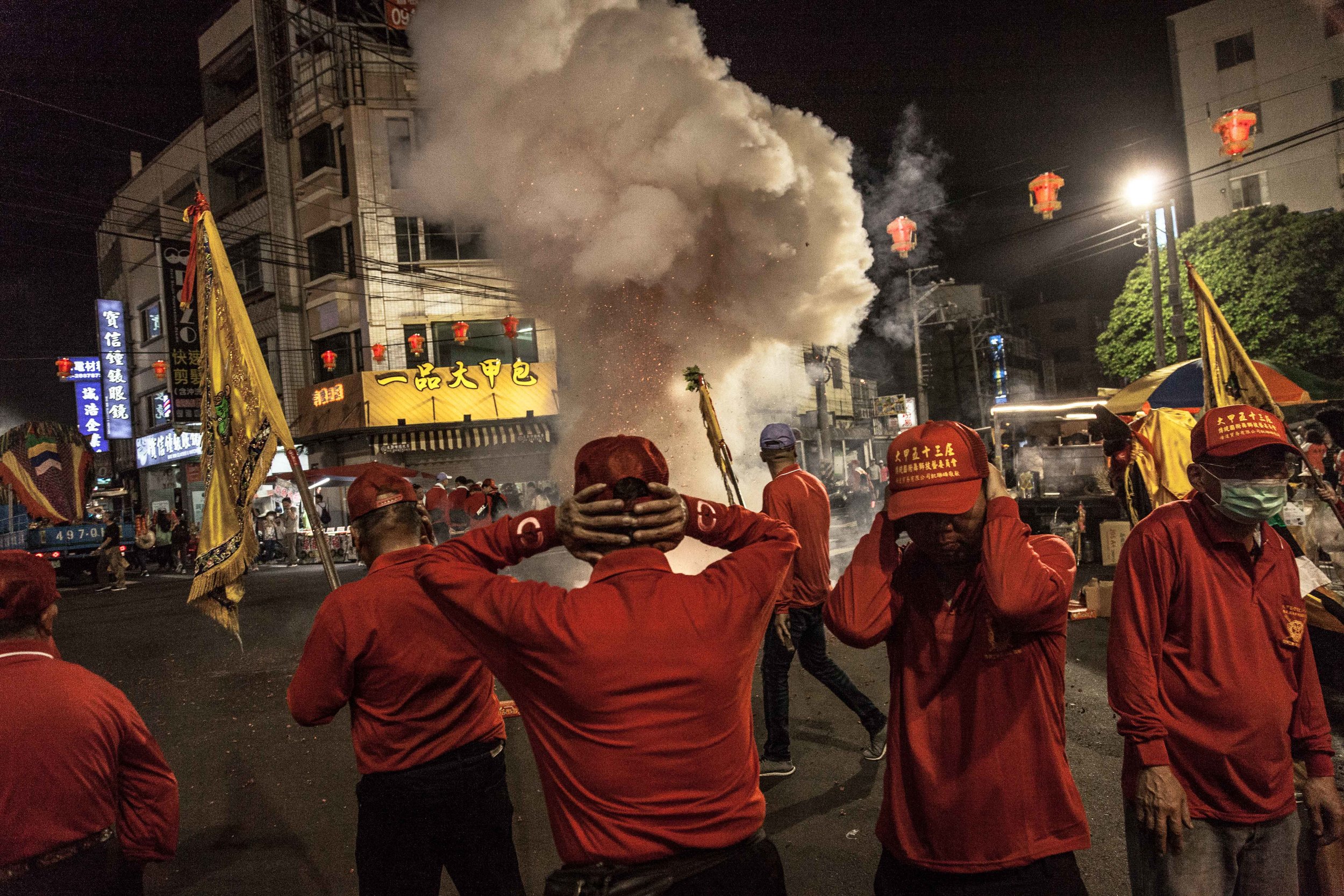 For those planning to walk the Dajia Mazu, ear plugs are essential. The loudest firecrackers imaginable are let off 24/7 along the 9-day 330km route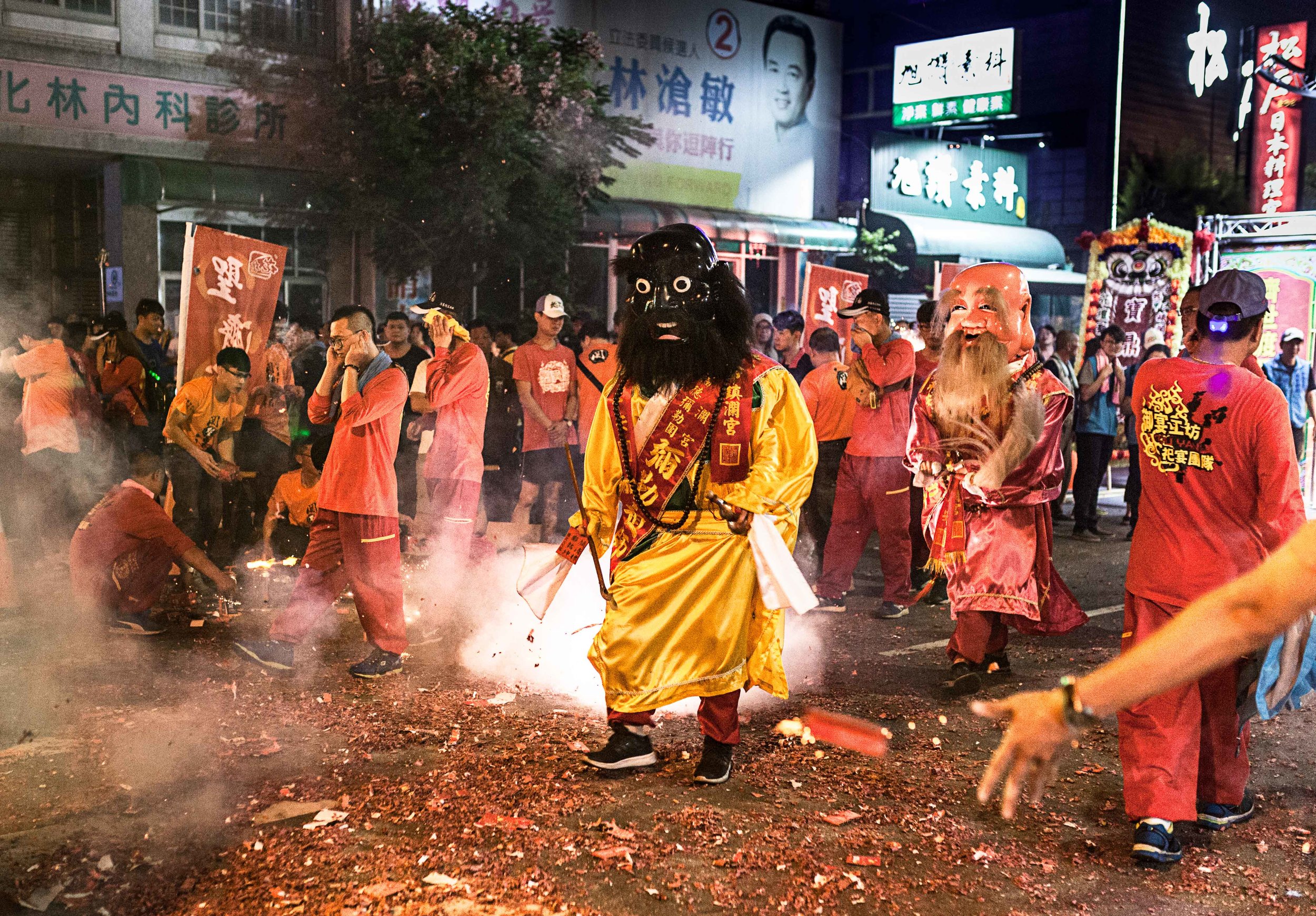 In Changhua City, enormous lit firecrackers were hurled into the paths of performers dressed as Taiwanese gods and folk characters. Many remain in costume as well as character for much of the route.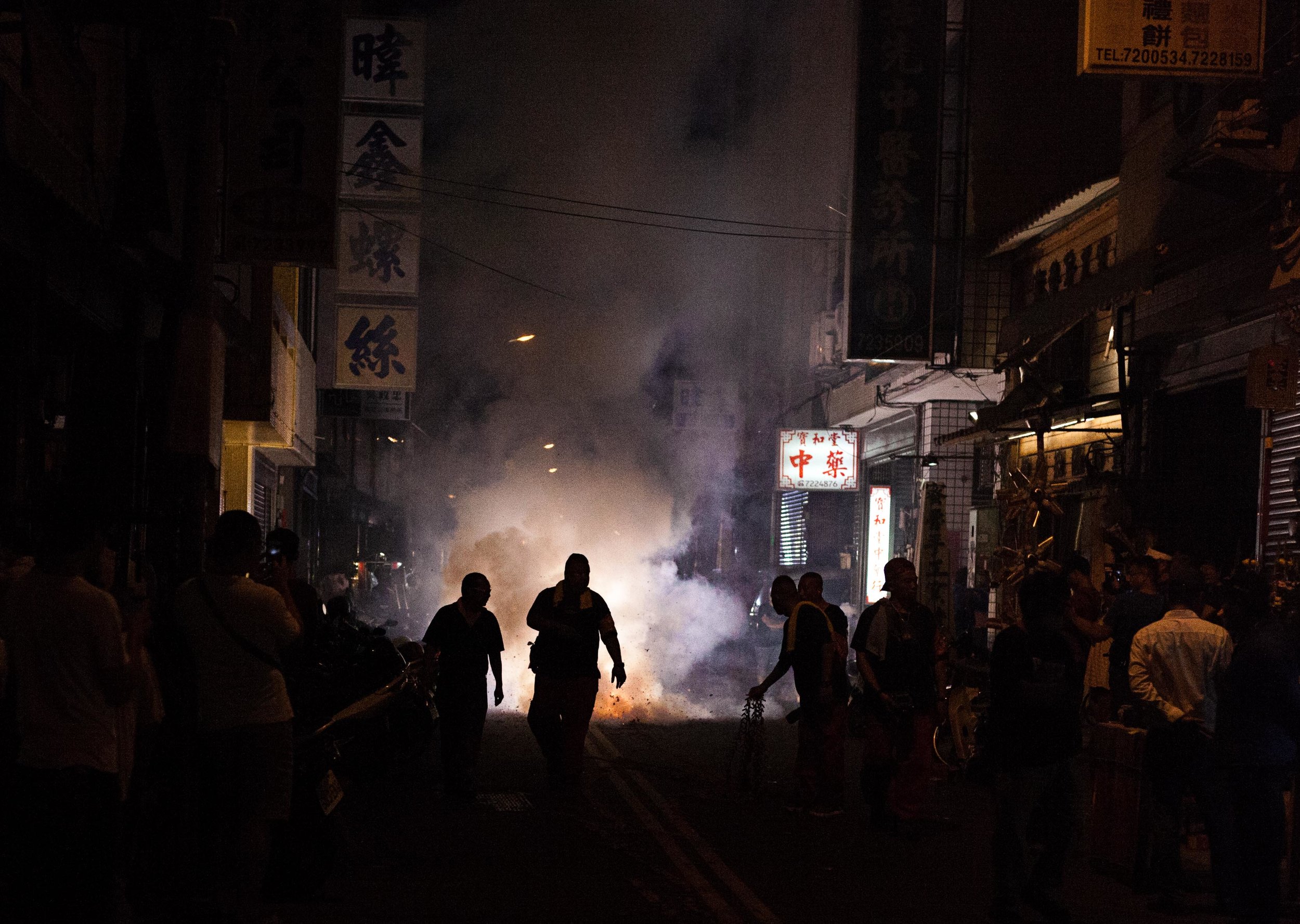 Scenes in Changhua become particularly boisterous as gangsters from rival clans fight to keep a statue of the goddess Mazu on their turf for as long as possible. Doing so will bring luck and fortune.
On the fourth day—a much needed rest day for pilgrims halfway through 330km—I found sacrificial pigs lined up outside Xingang Fengtian Temple to honour the birthday of Mazu — Chiayi County
Before sunrise from 3,952m above sea level -- Summit of Jade Mountain (Yushan)
Looking east from the summit of Jade Mountain (3,952m), Northeast Asia's highest peak. The colours were other-worldly so early in the morning -- Yushan National Park
My fellow hikers at the summit of Jade Mountain. Permits are difficult to acquire, so I went with the excellent Blue Skies Adventures who took care of it all.
Looking south from the summit. What else are you going to do at 05:30 on a Monday morning? It was a tough, life-affirming trek, and an exceptional way to bring a year in Taiwan to an end.