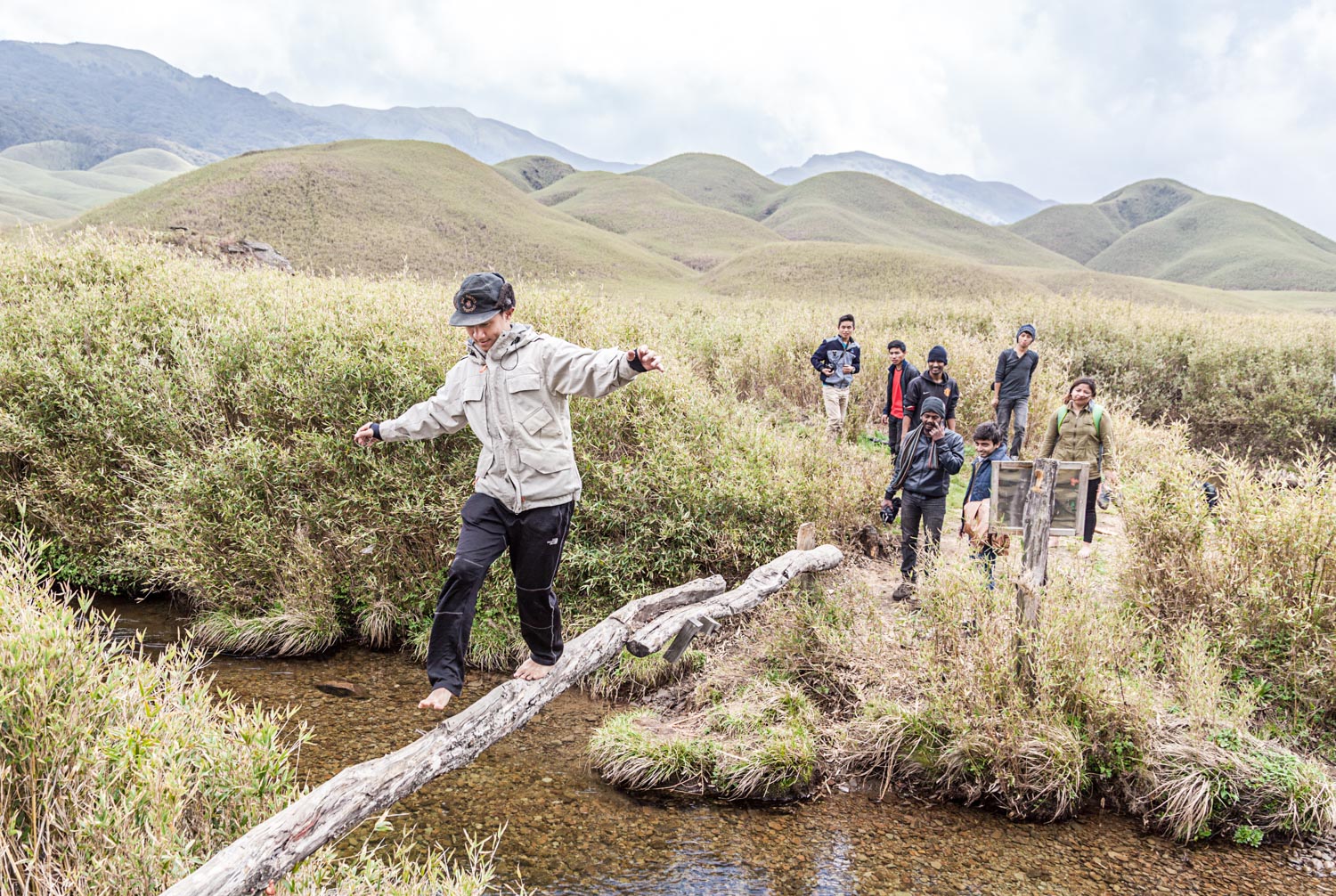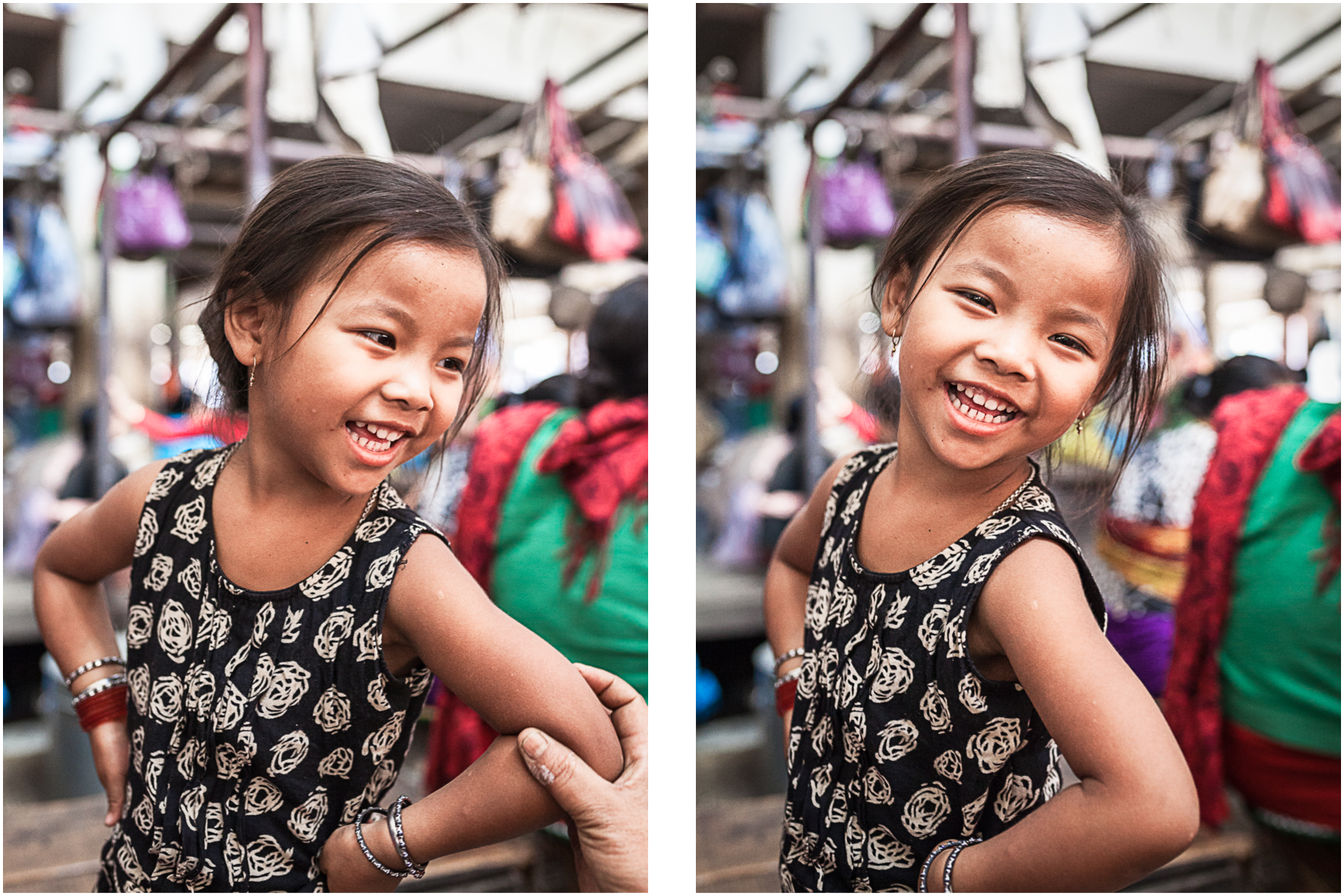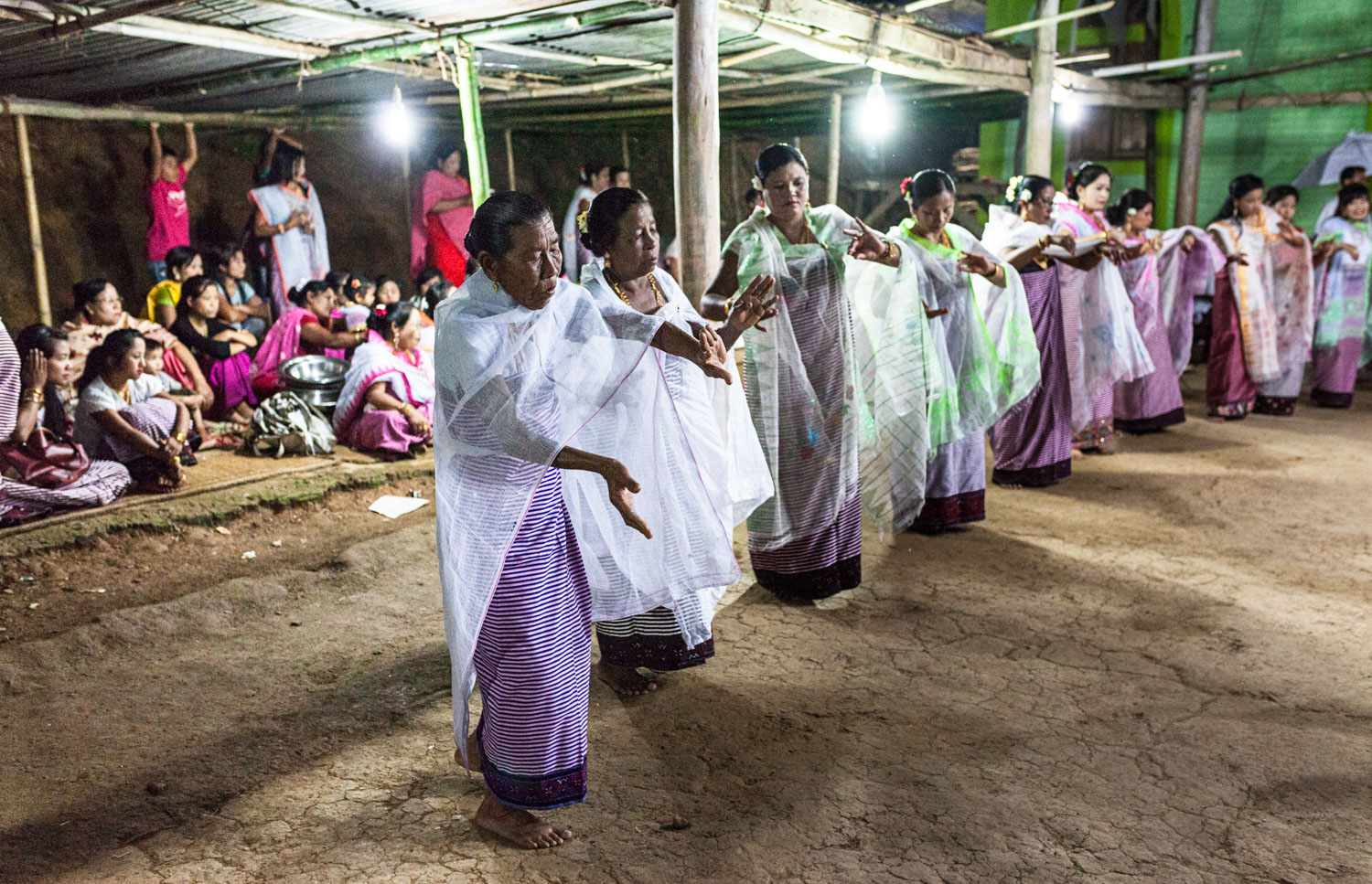 On a map, Northeast India's seven states appear isolated from the rest of the country. I began with a week in Guwahati, Assam, where I met this holy man on a tiny island in the Brahmaputra River.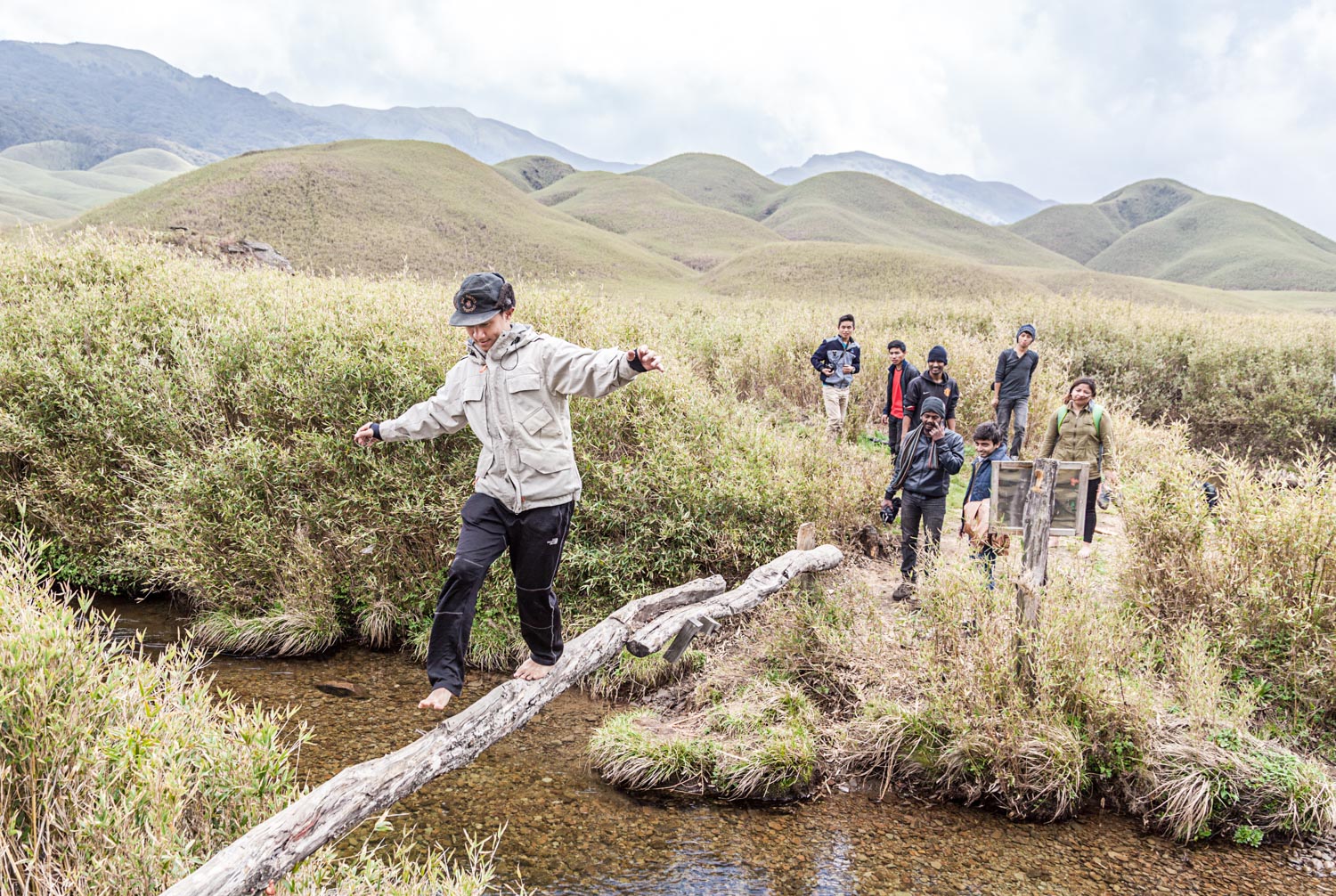 I pushed east into Nagaland, an Indian state of primordial cloud forest and ex-headhunting tribes. In the high altitude Dzukou Valley, a Naga man showed some Mumbaikers and I how to cross a stream.
A cross in Dzukou Valley. The vast majority of the once-feared headhunting hilltribes of Nagaland are now evangelical Christians.
Gates topped with crossed machete blades, symbols of a violent past, line the hill forest paths across Nagaland. Traditional Naga territory extends into Myanmar and south into Manipur state.
A Nagaland State Transport bus took me south to Imphal, the state capital of Manipur. At Mother's Market, the world's largest female-only-run market, I met and chatted to these ladies playing Ludo.
Historically, Manipur was an independent kingdom, known in ancient times as Kangleipak. The major ethnic group, to which this lady belonged, are the Meitei.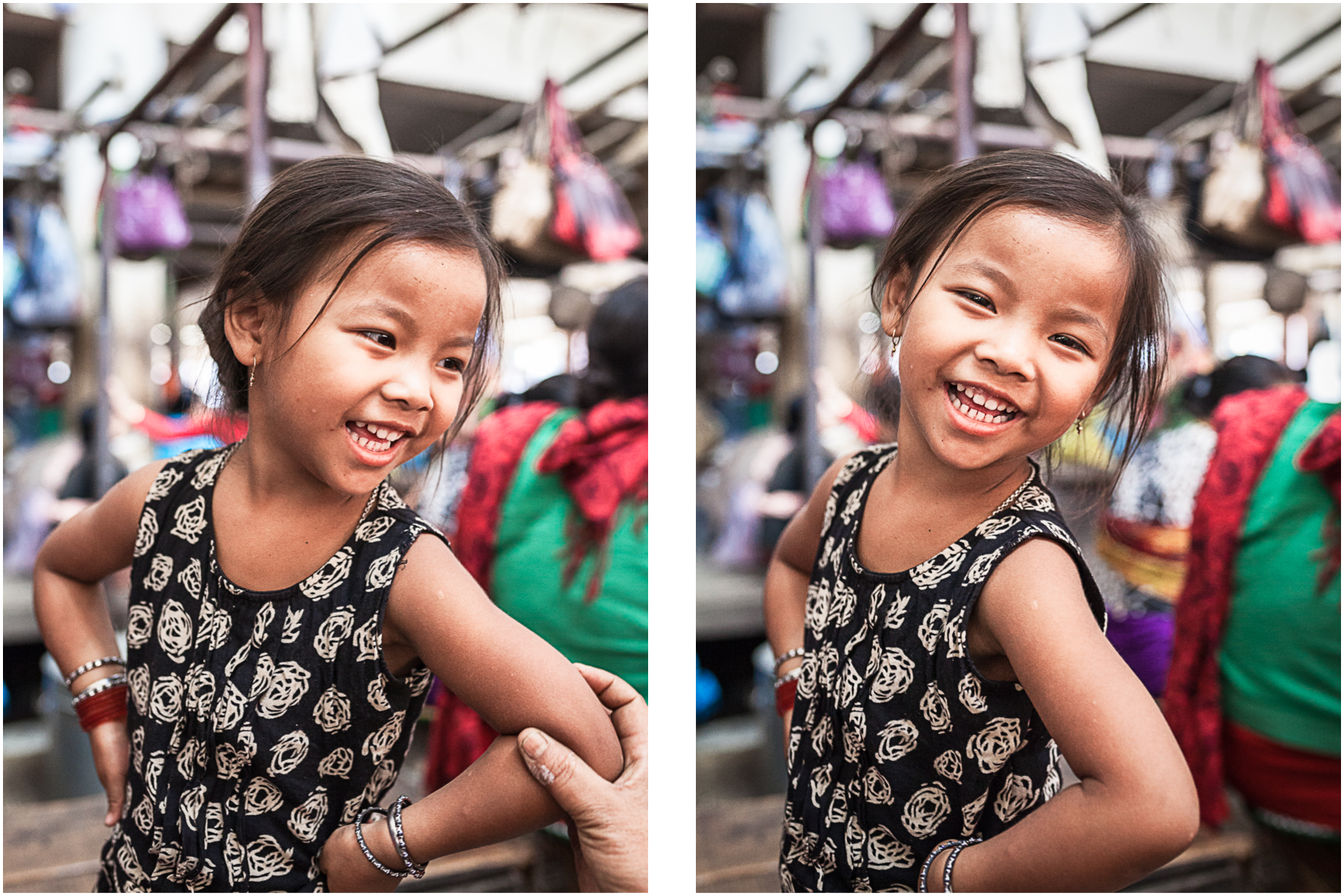 Ema Keithel - or Mother's Market - is the workplace of a lot of happy, confident women. A lady beckoned me and proudly pushed her daughter in my direction. Little Denusya wasn't shy in the slightest.
Few words can describe how excellent Mother's Market is. Approximately 4,000 ladies run stalls; men are welcome to shop but not to own a business. Manipur is traditionally a matriarchal society.
Smoke Break at Ema Keithel. The market was atmospheric, warm, friendly, and engaging – a spectacular display of everything good about humanity – and one of the best sights I've seen anywhere.
A lady at Mother's Market selling enormous fish caught in Loktak, Northeast India's largest freshwater lake.
After Imphal, Loktak Lake was my next destination. It was remarkably beautiful. Those are not islands; they're floating masses of vegetation, soil, and organic matter known as phumdis.
Mr. Oinam Maipakchao, whose family homestay I visited, surveys his home turf around Loktak Lake from atop Leimarel hill. A true cultural ambassador for the Meitei people, he taught me a great deal.
Phumdis are unique to Loktak. Fishermen have built huts on some of these floating islands. Standing on a phumdi is a wonderfully odd sensation.
As I watched the sunset over Loktak Lake from my vantage point on Leimarel Hill, I looked at the surrounding hills and pondered the warnings I'd heard about them.
Many were traditionally Naga territory. State lines drawn up after India's independence led to its bloodiest (ongoing) insurgency and Manipur's violent reputation. The Vale of Imphal is safe, however.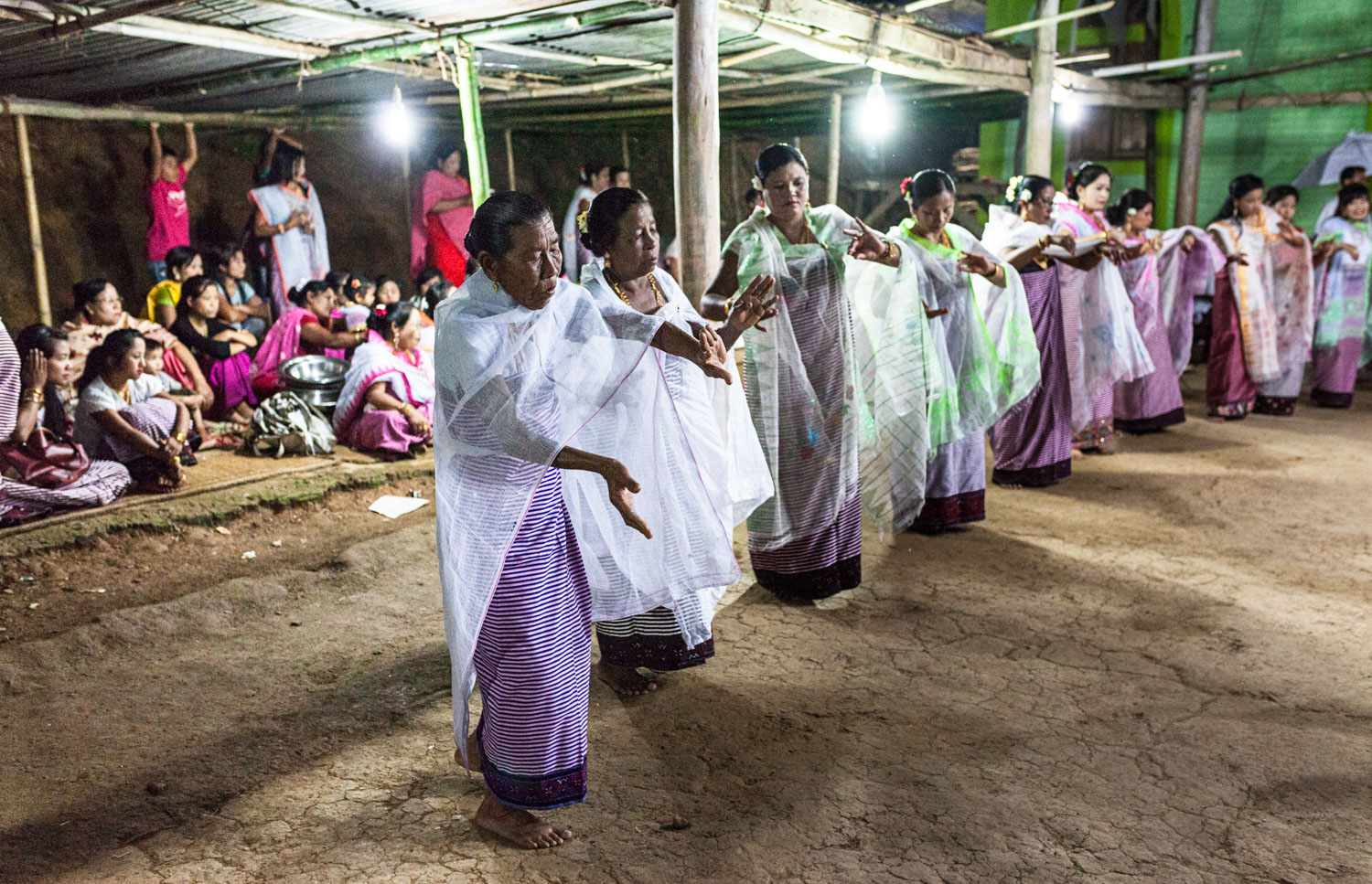 At the Lai Haraoba festival nearby, I witnessed this beautiful Manipuri dance. Accompanied by music and singing, 20 women in the floodlit grounds of a temple moved anti-clockwise for hours.
Their hand movements mesmerized me. The women were in ascending age order; the younger ones checked their hand motions against their elders. The three eldest kept their eyes closed in concentration.
Meitei girl in traditional costume for the Lai Haraoba festival, during which the Meitei welcome spring. She was one of around thirty dancers reenacting scenes from their universe creation story.
Meitei girl taking a break from Lai Haraoba festivities. Learning about the culture of the Meitei people was a great joy and privilege. These girls wanted my photo too; foreigners are rare in Manipur.
On Loktak, boats are human-powered, and thus, the water is clean and atmosphere tranquil. Bamboo basket traps catch fish. Suspended light bulbs attract insects, which attract fish to the traps.
Oinam Maipackchao rowed us in baking heat toward a fisherman's hut built on a floating phumdi.
Before leaving, I saw Thang-ta, Manipur's martial art. The sun set as a boy swept and threw water in a purification ritual. The fight showed me why Manipuri men were once feared as excellent warriors.
Young Manipuris dance on the shores of Loktak Lake. Meitei culture is ancient, vibrant, and unique; it burrows into one's consciousness and remains there long after leaving. I know that I will return.